Audi Paint Pens
Order Audi Paint Pens by Model:
Touch Up Paint Pens for Audi
PaintScratch.com sells the highest quality Audi paint pens for all Audi years and models. Order a Audi paint pen for your vehicle by clicking your model above. Next select your Audi year and color order your Audi touch up paint pen.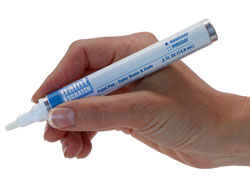 More About Audi

As far as we are concerned here at PaintScratch, Audi makes the ultimate luxury cars. In our family, founder Collin Harris drives an A4 around the mountains of Lake Tahoe to go skiing, hiking, and mountain biking every day. If you see an immaculately painted white Audi A4 driving around Lake Tahoe, it could very well be Collin himself! If you also drive one and need to order an Audi touch up paint pen, then you have come to the right place. Whether you drive a ridiculously old Audi from 1952 painted Dove Blue, or are a total badass and cruise around in a brand new Brilliant Red R8, we've got an Audi touch up paint pen for you. Locate your model on this page, and order you Audi touch up paint pen today!