How To Choose a Touch Up Paint Color for Your Car
Choosing Your Color
How to choose the right touch up paint color for your car:
We have attempted to make the colors shown on the screen for your car as accurate as possible. However, your actual car paint color may not look the same as what you see on the computer screen. If you look at a metallic straight on, it can appear much darker than if you look at it at a lower angle. It is important to verify that you have the correct paint color for your car before ordering.
Example of How Color May Appear on Your Screen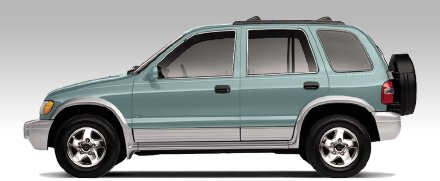 | | | |
| --- | --- | --- |
| Color | Color Description | Color Code |
| | Jade Green Metallic Clearcoat (1) | 3G |
| | Jade Green Metallic Clearcoat (2) | 3G |
| | Jade Green Metallic Clearcoat (3) | 3G |
Look at the above three colors. The color shown as Jade Green Metallic Clearcoat (1) was taken as an overall impression of the color. Jade Green Metallic Clearcoat (2) was taken from the middle of the door. Finally, Jade Green Metallic Clearcoat (3) was taken from above the rear tire. As you can see, the three colors are similar, but pretty different. In our database, we actually show the top color Jade Green Metallic Clearcoat(1) as the actual color in our database. Again, this is why it is so important to find the color code for your car.
Of course, perhaps in the future, we could have pictures of all the cars as above, but it still wouldn't help when you have two cars with nearly the exact same color. This is MUCH more common then you would believe. In fact, for some cars, they will list FOUR Red Metallics for the same year, make and model! What causes this is slight variations in the color formulas sprayed on the car. In fact, for some models, there will be several identical colors but sprayed in different factories and they will have different color codes.
Matching Your Car's Paint Color
It is impossible to exactly match metallic colors for several reasons. One, metallics look very different brushed versus sprayed. Second, colors fade over time, especially the reds and any color with red in it like gold. However, since you are only repairing small scratches, this should not be too much of an issue as long as it the color is reasonably close.
Car Paint Color Descriptions and Paint Color Names
If you know your color is Jewel Green Metallic Clearcoat and the code is PA and all you see on the screen is Emerald Green Metallic Clearcoat with the same code PA, these are the same colors. Often a vehicle manufacturer will just use a new name to describe an old color, then put the old color name on the vehicle invoice! Again, the color code, is how we mix the paint, not the paint description.
Metallic Car Paint Colors
Often the color description will help you find your color. Say you have Garnet Red and Red Metallic and these are the only two reds shown for your vehicle. If you know your vehicle has metallic paint (the shiny little pieces of aluminum in your paint) then the Red Metallic would probably be your color. If you don't have metallic paint, the Garnet Red would be your color. Again, to be absolutely sure, check the color code on your vehicle.
Two Tone Auto Paint Colors
Two Tone colors will be listed as follows in the database. We have shown a two-tone color combination which includes a regular two tone color combination (8W2) and one which includes a "Unpainted" color just to explain what these are.
If you have the first two-tone combination, the actual paint code on your vehicle will be the 8W2 and you will not see the paint codes 64C or 49B listed anywhere on your vehicle. You have to determine by looking at the color shown on the screen which to order. In almost all cases, it's pretty obvious which color you need to order. In the case below, if you want to order the green portion, you would click next to the color listed as Green Metallic Clearcoat (Code #64C) and if you wanted the Slate, you would click on the box for the Slate Gray Metallic Clearcoat (Code #49B). Again, your color code on your car will be 8W2
In the second case, if your vehicle color code is 8J6, the only color you can order is color code 792 as the other two-tone part of the car is unpainted and is probably a plastic part.
Color
Color Description
Color Code
Two Tone Color Combination
8W2
Green Metallic Clearcoat
64C
Slate Gray Metallic Clearcoat
49B
Two Tone Color Combination
8J6
Royal Silver Metallic Clearcoat
792
Unpainted!
Clearcoat Car Paint
Make sure you follow this link for a complete discussion on clearcoats.
Tri-Coat Car Paint
If your color description contains the word Tri-Coat, make sure you follow this link for a complete discussion on tri-coats.
If you have any questions about two-tone paints, please contact us .