Finding your Subaru Paint Code
Paint Codes
Subaru Paint Codes
Finding your Subaru Paint Code
Location of Subaru Paint Code
Subaru did not make it easy to find the color code. For some reason, they put the color plate on top of the drivers side strut. Now, this is a ridiculous location but so it goes. Look for the three digit code on the strut tower.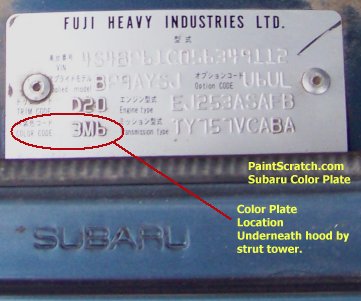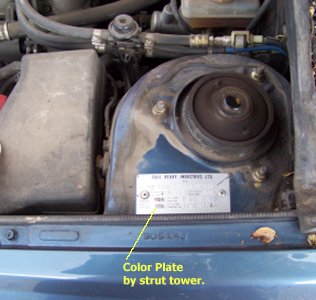 It will have the format of:
3M6
which corresponds to
Two Tone Color Combination 3M6
Atlantic Blue Pearl 33A
Granite Gray Opal Clearcoat 35S
If your car has two colors, you will see the two tone color code. When you look on our site at your year, make and model, you can see a listing of the two tone color codes and the corresponding paint colors.
Subaru, like all manufacturers, uses the exact same color across many models and then will have a different color name for each model. It's the same paint! This is why the color code is so important to order the correct paint.