Domestic and Foreign Vehicles Color Identification Plate
Paint Codes
Pre 1996
The only way to accurately order touch-up paint is to know the color code for your vehicle. You may be lucky and own say a 1995 Subaru that lists only one color of white.
However, you still need to verify the color code as perhaps the white shown on our site was not the white used on your vehicle!
On the other hand, you could own a 1995 F-Series which lists numerous red colors and deciding which one from looking at the colors shown is impossible. For example, a Red Metallic Clearcoat and a Garnet Red Metallic Clearcoat look very similar on the screen, but can look
VERY different
on your car. In this case, you must find the color code for your vehicle.
All vehicles carry a color identification plate that is located in various places on the vehicle depending on the model. Use the picture below to locate the color identification plate for your vehicle. Next, find the colors for your vehicle and look at the color codes shown for all possible colors. Write these down and go out to you vehicle and check for the correct code. If the color of your car doesn't seem to match the color shown on your computer but the color code matches, then you have correctly identified the color. We manufacture the touch up paint according to the color code, NOT color names.
Sometimes these codes can be tricky to find. For example, on some cars, the color code is located in the trunk as shown below, but it actually is under the trunk carpet next to the spare tire. These locations are starting points. They can even vary on the same models!
Domestic and Foreign Vehicles



Acura
15
Alfa Romeo
5,18,19
AMC
10,11,15
Audi
1,2,3,7,8,10,14,17,18
BMC-Austin Rover
2,3,7,10
BMW
2,3,4,7,8
Chrysler
2,4,5,8,9,10
Ford
15
General Motors (Color Codes)
2,7,10,12
General Motors (WA Numbers)
16,18,19,20,21
Honda
3,10,15
Hyundai
7,15
Infiniti
7,10
Isuzu
2,7,10,13,15
Jaguar
2,4,5,15
Kia
15
Lexus
15
MGB
2,3,4,5,7,8,10,15
Mazda
2,3,4,5,7,8,10,15
Mercedes Benz
2,3,8,10,12,15
Mitsubishi
2,3,7,8,10
Nissan (Datsun)
2,4,5,7,8,10,15
Porsche
2,7,8,12,15
Renault
3,4,7,8,10,16
Rover
2,5
Saab
8,10,17,15
Saturn
19
Subaru/Fuji
1,2,8
Suzuki
7,11,17
Toyota
3,4,7,8,10,15,17
Triumph
7,10
VW
2,3,7,8,12
Volvo
1,2,3,7,8,10,11
Yugo
2,3,5,18
All Other Makes
All Locations
Chevrolet Color Plate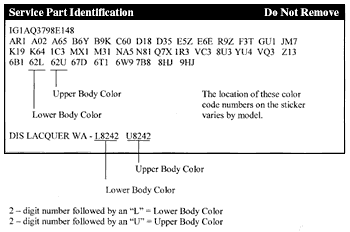 Chrysler Color Plate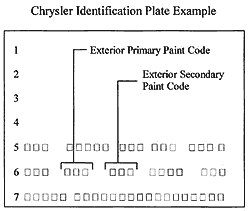 Ford Color Plate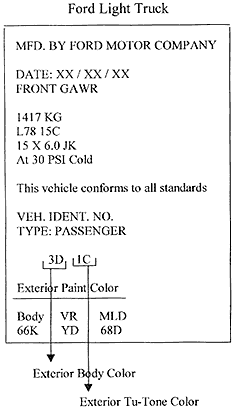 Special note on Honda and Acura. You must find your color plate and look at the letter in the lower right hand corner. This code is the factory code and is part of the paint color. For example, the color below would be listed as B-89P-A on our site because of the letter A. This letter will usually only be A,H or L.