Paint Types


We use Universal Basecoat for most of our paint. This paint handles like lacquer paint and can be thinned with automotive lacquer thinner for spraying (or cleanup). This paint is NOT acrylic lacquer, but a much improved version made for touch up applications. Please note that in certain areas of California, automotive lacquer thinner is illegal and cannot be used. Check with your local authorities. Follow this link for more information about thinning the paint. This paint does not require a activator or catalyst to dry. Wear a proper respirator when spraying this paint as it is toxic. We do not sell custom urethane paint which requires a catalyst. We do sell a catalyzed clearcoat called 2K Clear. (Catalyzed paints should only be sprayed with a fresh air respirator in a paint booth. These paints are very dangerous for non-professionals.) We also use PPG, particularly for single stage.

There are three types of paints.
Basecoat/Clearcoat - Most late model vehicles use this paint system.
Tricoats - A three layer paint system.
Single Stage - Used primarily on older vehicles.

Basecoat/Clearcoats
Basecoat/Clearcoat paint has been applied to most new vehicles since the late 70's and early 80's. This paint requires two layers of paint-a basecoat and a clearcoat. The basecoat is the actual color of the paint and the clearcoat is a clear, shiny layer of paint that is applied over the basecoat. The clearcoat protects the paint from UV and is necessary to make the paint shine. The clearcoat must be polished with rubbing compound to shine properly.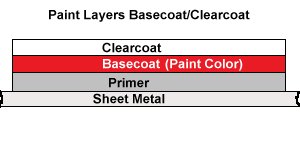 ---
Tri-coats
This is a special paint application consisting of three different layers of paint. It gives the vehicle a milky pearl effect and can be quite striking to look at. Unfortunately, it's not so easy to repair. Any color listed on our site that has the word "Tri-coat" in the paint name is a tricoat. This paint requires three different coats of paint. The first is a basecoat of color. Next a second coat of transparent color, called the midcoat is applied and finally, a coat of clearcoat. The midcoat color is applied very thin and adds additional depth to the paint. In order to successfully match a tri-coat, you should practice on a scrap piece of metal or plastic. The clearcoat must be polished with rubbing compound to shine properly.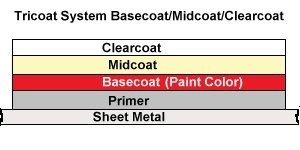 ---
Single Stage Paint
Many pre-1987 vehicles were painted with single stage paint. These paints do not require a clearcoat to make them shiny so they are called Single Stage paint. We are still able to make some single stage paint formulas. If your paint is only available in basecoat/clearcoat we will notify you by email. You must polish single stage paint with rubbing compound to achieve the proper gloss.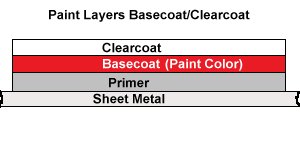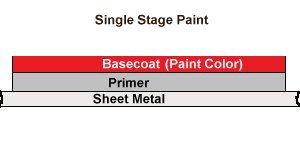 To place your order, please start at our Home Page.